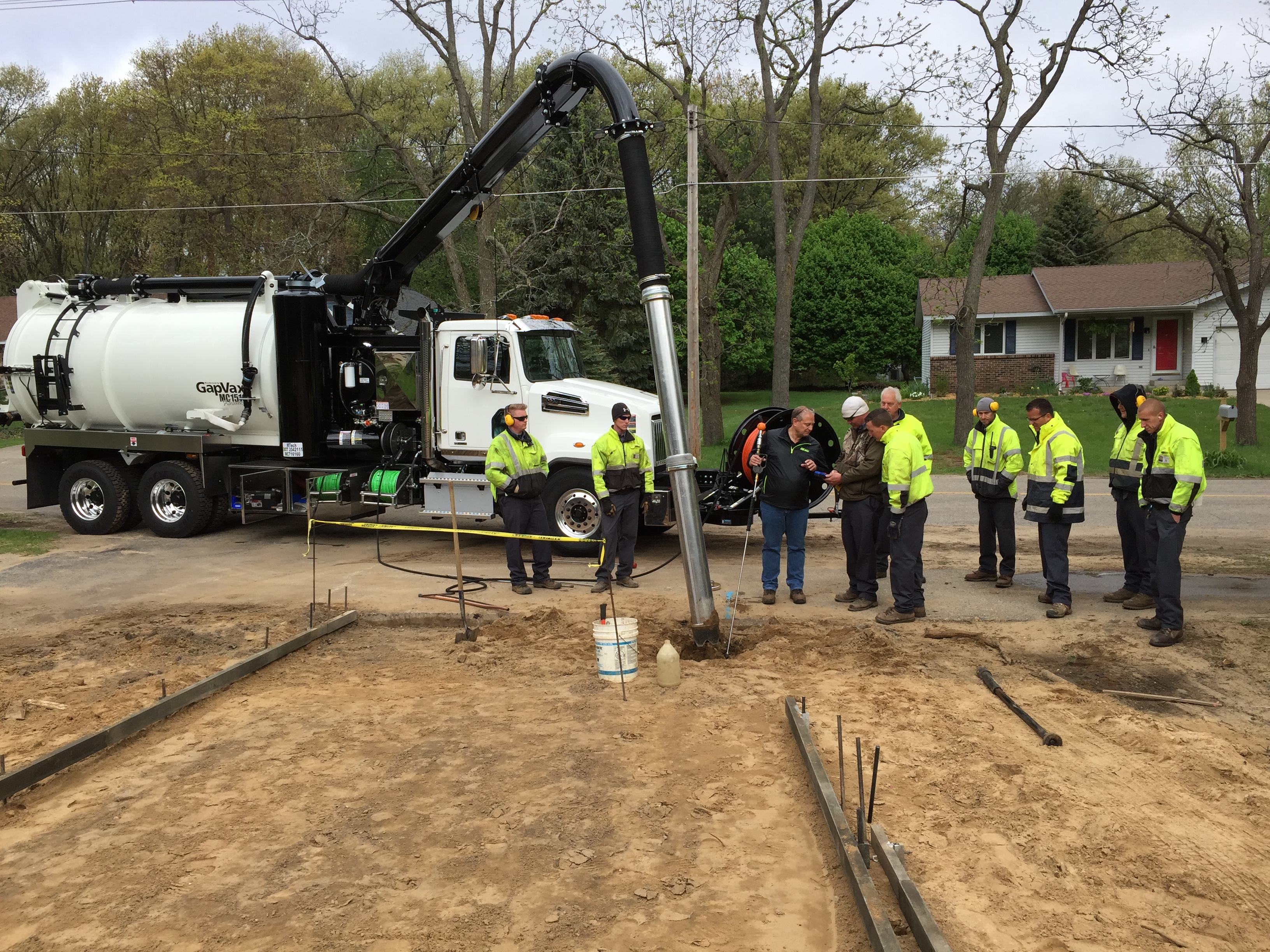 What Are Hydrovac Trucks Used For?
Published: October 26th, 2022 | Author: Admin
A hydro excavation truck is a machine that utilizes high-pressure water to cut through soil while vacuuming the excess dirt from the area. A mounted unit on the truck usually contains fresh water and excavated soil. Once the debris tank is filled with mud, it can be disposed of off-site so you can continue working on your job.
Hydrovacs are used for numerous projects, including debris removal, soil trenching and other applications. Below, you'll learn about the advantages of hydrovac trucks, their applications and our hydrovac trucks that can help you complete your projects with speed and efficiency.
Advantages of Hydrovac Trucks
There are many benefits to using a hydrovac truck on your projects and job site, including:
Reduced risk for damage: While other digging methods utilize mechanical digging that can create significant issues, such as punctured pipes, the hydro excavation process doesn't use metal tools. Hydrovac trucks rely on water pressure and suction, reducing the risk of damage that could result in increased downtime if something becomes damaged on the job site.
Reduced costs: Hydro excavation equipment doesn't require nearly as much labor or restoration as hand digging. Since you don't have to account for high labor or restoration costs, hydrovac trucks are often more cost-effective than other methods you might use.
Limited disturbances: The hydro vacuum excavation process is exact and doesn't disrupt the area around your project. Since there are little to no disturbances and you don't have to worry about restoring sites,

normally damaged by traditional excavation equipment

.

Increased safety: Traditional digging methods require a worker in the trench to guide the equipment to the correct location, which could pose a risk to your worker's health and safety. Hydrovac trucks can be distanced from the excavation site, meaning workers can maintain their distance and increase their safety.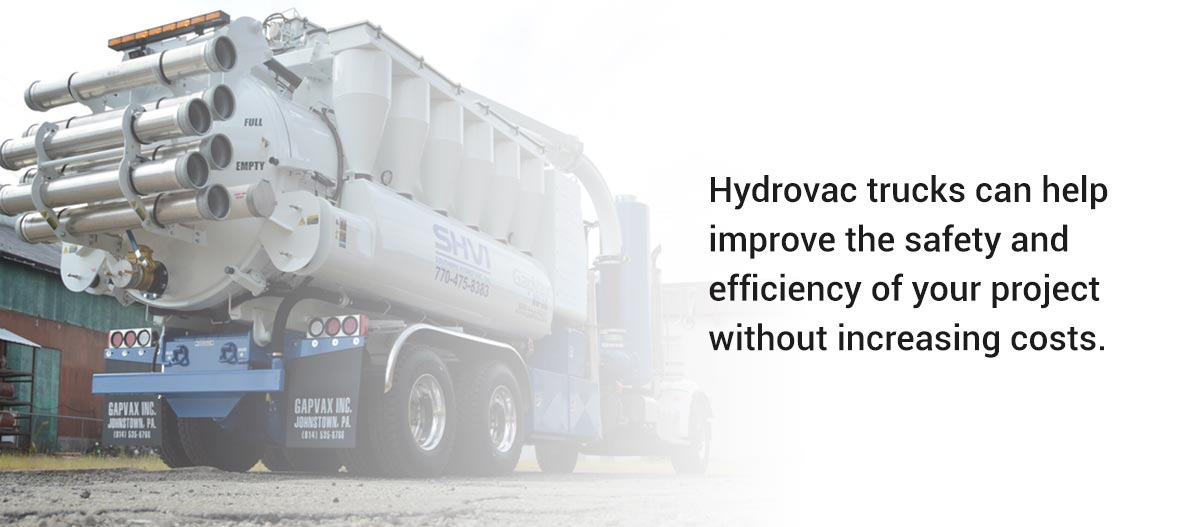 Hydrovac trucks can help improve the safety and efficiency of your project without increasing costs. This equipment can help revolutionize how you approach and complete jobs, speeding up the process and helping increase revenue.
Common Applications of Hydrovac Trucks
There are numerous applications you can use hydrovac trucks for, including:
Daylighting: Daylighting and exposing utilities is one of the most common applications for hydrovac trucks. Workers will dig to locate and uncover utilities so they can work on them. The hydrovac will efficiently remove soil and excess water from the excavation site. When used correctly, hydrovacs can limit or eliminate the risk of damage or disturbance to the existing utilities. Contractors often use hydrovacs for daylighting to locate horizontal or vertical utility lines accurately.
Soil trenching: Soil trenching refers to digging narrow trenches in the soil so contractors can install utilities, cables and pipelines. Hydrovac trucks are accurate and ensure only the specific area needed for the job is affected. Hydrovacs can also work on frozen ground, which is often challenging for traditional equipment. These pieces of equipment are an excellent option when you're trying to limit disturbances and improve efficiency.
Debris removal: Hydrovacs' accuracy and efficiency can easily remove debris and clean out areas without affecting nearby structures or sites. Traditional equipment often needs heavy mechanical parts that can unnecessarily damage nearby locations. The features of a hydrovac allow

material to be precisely removed from a job site and relocated to the dump site

. Another benefit of hydrovacs is that they can also remove dry and wet debris, allowing you to complete jobs in almost any situation.
Piling hole and utility pole excavation: Hydrovac trucks are more precise than traditional equipment. As a result, these trucks can easily dig holes of different depths and diameters to lay all kinds of

pilings and utility poles

.
Cold weather digging: You can utilize hydrovac trucks in various conditions, such as cold or freezing weather. Cold weather doesn't restrict hydrovac machinery, reducing your downtime on projects and allowing you to stay on schedule. The heated water can easily break up the cold ground, allowing you to complete tasks as planned.
These are just a few of the most common applications of hydrovac trucks. You can also use this equipment to remove drilling mud, clean up spills during emergency response, and more.
Our Hydrovac Trucks
GapVax offers the VHX series and HV series hydrovac trucks to help you complete your hydro excavation project. Below are the specs and other relevant information about our hydrovac trucks to help you determine which would work best for your needs:
VHX Series
Our VHX series hydrovac trucks are equipped with a wet/dry filtration system that allows for simple, reliable and quiet filtration. The VHX series includes many functional specifications, including:
750-gallon tank for water storage
7 cubic yards in usable debris
28 inHg power vacuum
The VHX series also has a payload of 15,000 pounds and a low profile, making it an excellent option for various excavation projects. Choose the optional heated cabinet to continue your work during the winter months without relying on time-consuming and unreliable traditional equipment. The optional air compressor allows you to continue work when water isn't available or right for an application. If you're interested in the VHX series hydrovac truck, get in touch for a quote!
HV Series
The HV series hydrovac truck is a long-lasting machine that is easy to work on a has one of the highest resale values on the current market. Here are the specifications for this hydrovac truck:
1,000-gallon water tank for storage
6 cyclone filtration system
15 cubic yards in usable debris
Our designs are simple and effective, reducing the risk of downtime due to complex controls and electronics. Our HV series hydrovac trucks can help you complete any job, even when you're miles away from the shop. Without worrying about breaking down, you can use this vehicle for work in power plants, shipyards, oil fields and more.
Our HV series can also work in extreme conditions, whether it's frosty weather or blistering heat. Our air system can help you tackle any job, regardless of the situation. We also design our hydrovac trucks to require little maintenance, eliminating the need for unnecessary downtime and reducing operating costs. Our HV series trucks can withstand the effects of time, giving you the equipment you can rely on. If you are considering an upgrade for your next project, request a quote for our HV series today!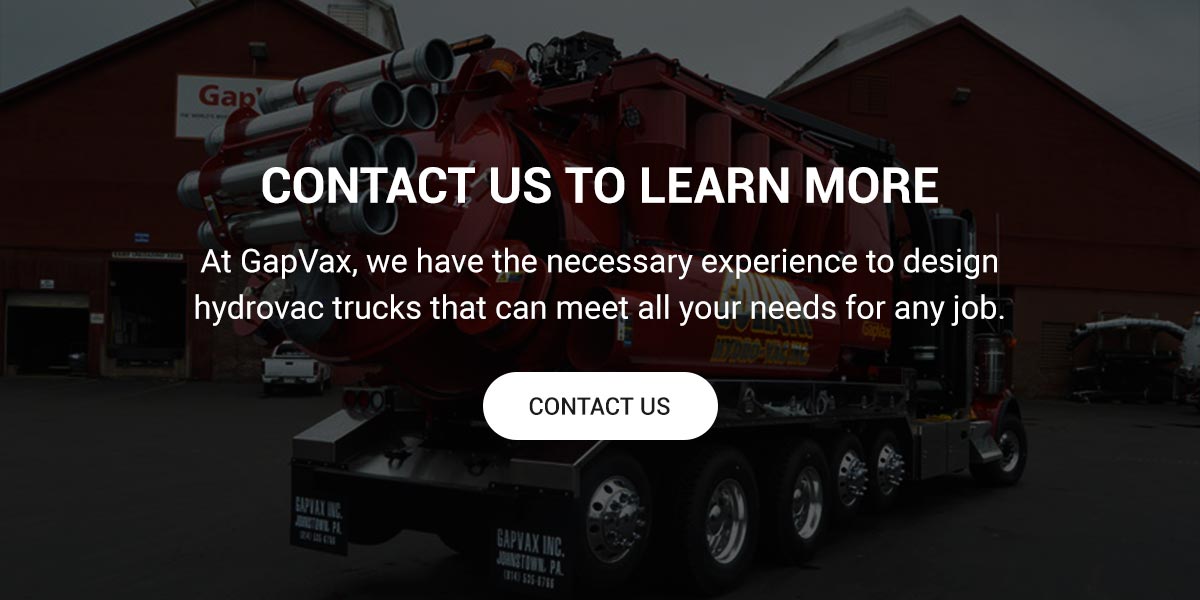 Contact Us to Learn More
At GapVax, we've been building hydrovac trucks since the early 1990s. We ensure each of our designs meets industry standards and is built to last as long as possible.
We consider you a part of the family when you partner with us. We'll take care of your needs and help you find the right equipment to handle the most challenging jobs. Our hydrovac trucks are built to endure, and we take care of our family, so you can rest assured that you're getting the best. Contact us today to learn more about how we can help and get a quote!
Back To Blog Posts